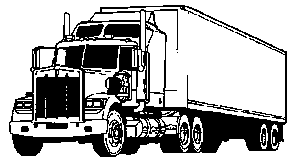 Getting a Truck Driving License
Finding a CDL School
Choosing a Trucking Company to Work For
How Do I Get A Truck Driving License?
What are the steps to getting a Commercial Driver's License (CDL)?
https://www.fmcsa.dot.gov/registration/commercial-drivers-license
You have to be old enough. The minimum legal age limit to drive a truck is set by the state, but none are less than 18. years old. You also must have a valid driver's license in order to get a CDL.
In Florida, you can get a CDL at the age of 18, but you cannot transport hazardous materials, and you cannot drive outside the state. go In addition, many over the road trucking companies set their own minimum age requirements. Some will take drivers at 21 and some have a minimum of 23 years old.
https://www.flhsmv.gov/driver-licenses-id-cards/commercial-motor-vehicle-drivers/commercial-driver-license/
You must first pass the test for a CLP, which is a Commercial Learner's Permit. The FMCSA (Federal Motor Carrier Safety Administration) sets the rules for truck driving and licensing, and they require anyone taking the CDL test to already have successfully obtained a CLP.
You have to have had a valid CLP for at least 14 days prior to taking the CDL test. Some CDL schools may require a CLP.
To get a CLP and learn to drive a truck, you must be 18 years or older, you have to meet the level of training required by the state you are trying to get the permit from; and you have to pass a written general knowledge test.
They will check your driving records for the last 10 years in any states you lived, and you will likely be required to have a certified DOT physical card to apply.
With a CLP and a qualified CDL holder to teach you, you can actually learn on the job. There are many restrictions to this path, and most people find it simpler to go to an accredited CDL school.
With a CLP, you are able to driver a truck, as long as there is a current CDL driver in the passenger seat with you at all times.
If you are over 21, you can drive a truck across state lines with a CLP, as long as you are accompanied by a CDL driver. A CLP is valid for 180 days from the date of issue.
HOW TO CHOOSE A CDL SCHOOL
Once you have your CLP, you need to choose a truck driving school. There are many different programs out there and they vary widely in both cost and quality.
The average cost of tuition in Florida is $5,000. The average length of that training is one month. Many trucking companies are selective about which schools they accept graduates from and have a set of minimum requirements for classroom time and driving time at the school.
Many trucking companies will reimburse you for all or part of your tuition during your first year of employment.
At the end of the course, you will have to pass a test on the CDL manual. The test will be in three parts and will cover your pre and post trip inspections, your ability to recognize and operate the controls in the truck, and a road test in an actual truck.
You will also need a valid non-commercial driver's license, a social security number, a birth certificate or an unexpired US passport and a green card if you are not a US citizen.
Now you have to get a DOT(Department of Transportation) medical card from a DOT certified doctor.
If you need to find a doctor who is certified in your area you can search the internet for FMCSA National Registry. This is basically a normal physical, and if you are in good health you will pass.
Things that might disqualify you are vision, if your eyesight is too bad to be corrected with eyewear, deafness, unmanaged high blood pressure or epilepsy. If you have diabetes, you may get a DOT card, but you also may have to renew it every 3 or 6 months until your levels are stabilized.
A normal DOT card is good for two years. If you want to get ready for the DOT physical, make sure all your prescription meds are up to date and you are taking them as prescribed.
If you wear glasses or contacts, get an eye exam and make sure your prescription lens is current.
Don't eat a ton of sugary foods or salty foods for a few days before the exam and maybe skip the coffee that morning.
Different states have different restrictions on what criminal offense may disqualify you from being a commercial truck driver.
Check your state's rules on the internet or your state DOT website.
There are basically two types of CDL truck driving schools. Some of the very large trucking companies have their own schools, but read the fine print.
There will be some contractual obligation to stay with that carrier for a specified length of time or you will have to pay back your tuition.
If you can't pay it back they can hurt your credit rating.
They also may pay you a reduced rate of pay for some initial period of time after graduating, up to a year. If you attend a private CDL truck school, you will be free and clear to find your own carrier after graduation, but you have to be able to pay for the tuition.
There are many financial assistance programs available and most good CDL schools can point you in the right direction to see if you qualify for help.
When choosing a school, ask questions. How many students are there paired to each instructor? Are you one of four, or one of 20?
That can make a big difference in your learning experience. Does the school also provide the CDL test on site?
If you fail, can you take it again as part of the original tuition or do you have to pay another fee? Ask if the school's trainers hold valid CDLs.
How long is the program and how many hours are actually behind a steering wheel in a truck? Carriers may be selective about a school's program and limit the CDL student drivers, and may also only accept candidates from certain schools.
If you know what carrier you want to work for, ask their recruiting department for suggestions of good schools.
Now it's time to choose a trucking company to work for. You are a valuable commodity. Depending on your source of information there is an immediate need of anywhere from 60,000 to 200,000 more qualified CDL truck drivers in the US in the next two years.
You will hear many recruiting pitches, and without any experience in the industry it will be hard to tell the truth from the fluff.
Some carriers offer attractive "sign on" bonuses that sound too good to be true. If the recruiter tells you they have a $10,000 sign on bonus, ask a lot of questions. How is it paid out?
It is almost never a lump sum at the time you sign up. Does it take a year to get the full $10,000? Are there any conditions that could cause me to NOT get the full amount?
Are there any conditions I have to meet to get the full amount, such as minimum mileage run? Be suspicious.
Most carriers pay over the road truck drivers with a combination of pay expressed in cents per mile, and some accessorial pays and usually some form of performance based bonuses.
In the case of pay in cents per mile, ask how the miles are calculated. Is it odometer miles, is it "practical" miles or "shortest miles"?
Odometer miles are the actual miles the truck was driven. In the trucking industry shippers are billed, and sometimes drivers are paid based on some form of mileage software.
All mileage software has settings to determine how to calculate the distance between two cities. Tractor trailers are not allowed to travel on every road in the US.
Obviously, you don't want a truck with a 53 foot long trailer driving down the streets in a residential subdivision. So the software will have a setting called "practical", which means it will be the most likely legal route a truck would take between two cities.
The setting called "shortest" will also be a truck legal route, but it will do things that a normal driver would not do, such as take a rural two lane road with stop lights every mile, just to trim five miles off the route, instead of staying on an interstate at 60 mph.
Most carriers today pay by practical miles, but you should ask. A carrier paying odometer miles will generally be paying 7% to 10% more than one paying practical miles.
Why does that matter? Because if the major part of your pay is based on miles, and you make a run from Anderson, In to Palm City, FL the "short" miles on PC miler software are 1,081.
The "practical" miles are 1,137, and the odometer miles may be 1,157 due to the truck having to leave the practical route for fuel or detours.
So, what does all that mean for your pay check? Let's say you are being paid .40 cents per mile.
The short truck mileage pays you $432.40, the practical truck mileage pays you $454.80, and the truck odometer pays you $462.80. The difference is only $30 per load, but if you run that load every week, it means a difference of about $1,500 a year.
Very few carriers pay based on odometer, but you should look for that in the pay packages advertised, as it is a big benefit.
Aside from mileage pay, there are "accessorial" pay items. These would be things like Stop Pay, which means if you have to stop the truck in route to make more than one delivery on a load, you would get some flat dollar amount for that task.
Layover Pay is what some carriers will pay you if you have to wait overnight in your truck, or some specified amount of time that is not your fault.
Since you make most of your money driving, if a scheduling problem causes you to lose the opportunity to drive, Layover Pay is meant to offset that lost driving time.
There are also a variety of different bonuses. Some are based on the amount of miles driven above a certain minimum expectation, or the number of accident free miles. When you are talking to a recruiter and they start talking about potential bonuses, understand that you may or may not reach those bonus thresholds in your first year. Ask questions about what you have to do to get the bonus and how many other first year drivers usually get to the bonus levels.
See the chart below that shows how many carriers use multiple types of pay (mileage, accessorial, bonuses) to make up your total annual compensation.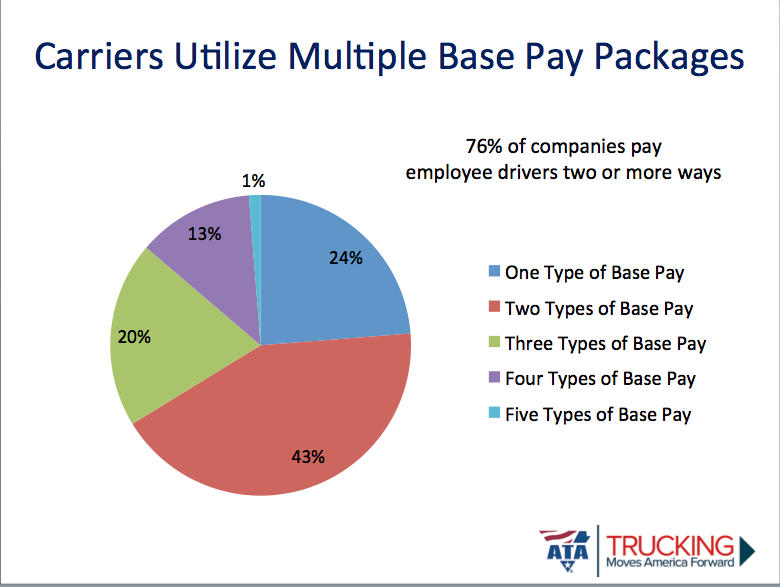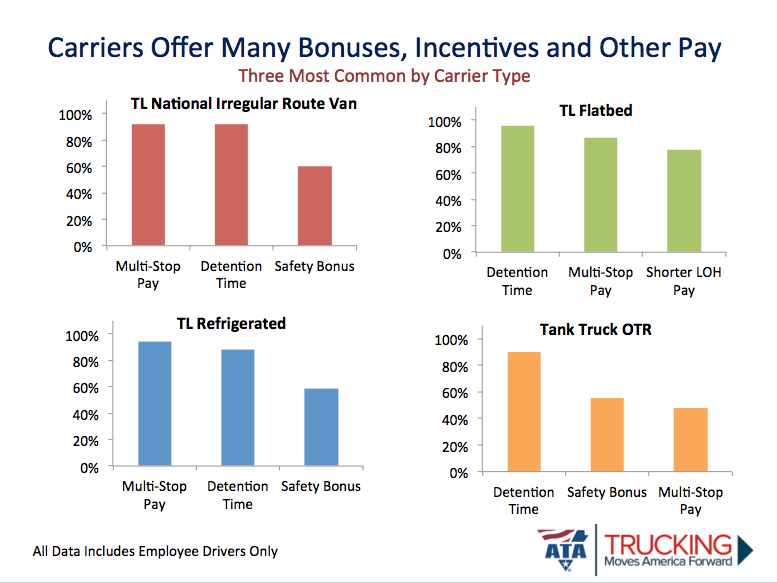 You also should ask about their medical insurance and how much it costs. Most people don't consider this to be part of their wages, but if your employer does not offer health insurance or offers a limited plan, you may have to buy outside coverage, and that comes out of your pocket. So, any dollars you don't have to spend for medical insurance that stay in your pocket as a result of who you work for, should be viewed as a benefit of working there; in other words part of your overall wage.